Testimonials
Thank you so much for your quick service on this order. I am sure the flowers put a smile on my Aunt's face, and I am so appreciative. I will be sure to order from you again!
Thank you again, and have a wonderful weekend.
Susan and staff,
I'd like to say thank you for always doing such a beautiful job. Any occasion your flowers are always fresh & arrangements just leave me with a wow! Beautiful from smallest simplest to big arrangements your love is the same in your quality work.
Thank you,
Lorena Arceo
Dear Mrs. Bible,
Thank you so much for sending such a quality bouquet from our son and his family for my 80th birthday.
It is truly beautiful and I know they, too would be pleased with what you put together for me.

Phyllis Lloyd
They were absolutely beautiful! Aliea stated they were the best flowers I have given her, and I have done this many times. Thanks so much.
Robert
Thank you for the beautiful arrangement delivered today for my mom's 90th birthday. Every arrangement I have ordered through you has always turned out beautiful!
Denise Knight
Hi Susan,

I wanted to let you know that my mother is over the moon with the beautiful flowers she received from you on Friday. Previously, I had been using another local florist, but Mom was never really happy with what she received. Her friends recommended you guys. They were right...she hasn't been disappointed since we started getting flowers from you. Thank you so much. It's good to know that, from so far away, I can be assured that my mother's flowers will be beautiful.
Kindest regards,
Beth K. May 13, 2019
Hello,
Thank you for your attention to detail. My Mom sent me a picture of the floral arrangement I ordered and you designed. I am very pleased with your service. It is difficult to be so far away from loved ones but sending a floral gift helps convey my sentiments.
Thank you again!
Connie
---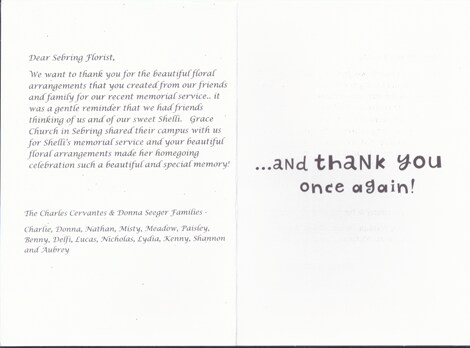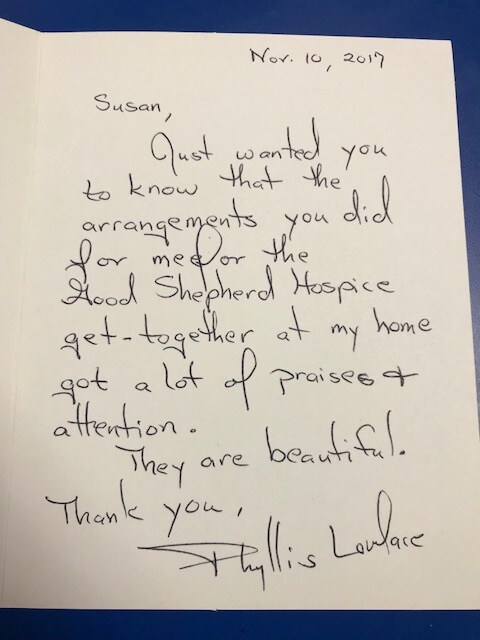 ---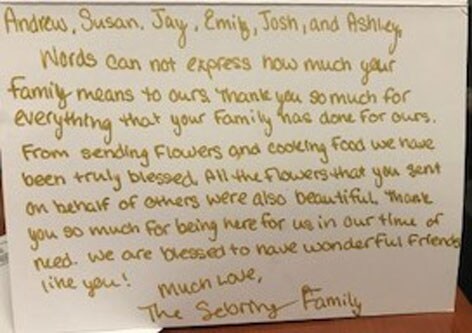 Dear Sebring Florist & Susan Bible,

Thank you for your donation of flowers, time & talent to Sebring High School's marching band annual banquet.
This donation helped to make the banquet a huge success. Not to mention it looked and smelled wonderful!

Your donation is greatly appreciated. We truly rely on all our sponsors generous donations. Without your help we could not have such a successful marching band program. We look forward to your continued support in the future. Thank you very much.

Respectfully,
James Leicht
Sebring Band Boosters Association, Inc.
Dear Sebring Florist,

I just got a call from my mother. She says the flowers are BEAUTIFUL. (As I knew they would be!) She commented on how fresh all the flowers looked. Evidently this is not the only arrangement they have received today. She further commented the arrangement you created was by far the most beautiful, especially noting how fresh and beautiful the roses are. I can't thank you enough for taking care of this for me.

Sincerely,
Susan
Dear Sebring Florist,

Thank you SO MUCH for stepping up to the plate and delivering my very late Saturday night order with a special request to deliver a Mother's Day floral arrangement on Sunday, Mother's Day! Our 95 year old Mom was very impressed with the floral arrangement and the vase.

Again, thank you for another beautiful arrangement. Please remind me to place another order for her birthday!!!

Judy Calt
Dear Sebring Florist,

Thank you! My mother told me the flowers were gorgeous. With me living so far away it is nice to know I can do something nice for her and the service is so reliable.

Greatly appreciate your amazing service!

Sincerely,
Kristina
Dear Susan,
Thank you for the beautiful flowers!

E.O. Koch
Susan,
The flowers and decor you put together were amazing. We had so many compliments all evening. I apologize for being so sick, made it through the wedding weekend and back home still mending. Thank God for daughters, I don't know what I would have done without her.

One of the bridesmaids has a wedding next year in Lake Placid or Seabring area and will surely be calling you.

Thank you again,
Mindy
Susan I just want to say that the floral arrangement I got today is absolutely beautiful!!!! Your work is stunning beyond that which words can express. The lord has definitely given you a wonderful talent.

Thanks
Jessica
Hi Susan,
Thank you so much, the flower arrangement is so beautiful!!! Also, I noticed it got their much sooner than I expected. I will keep you on file, you can count on me as a Client. Especially, when I'm so far away!!!

Once again, thank you......

Best Regards,
Olga Gil
Accounting
Kimre
Susan,
Peggy called me this morning to thank me for the flowers, how much they brightened up her day and her room....and how everyone that came in would all ooooo and aaahhh at the display....thanks again for helping me make her feel a little better......
Hugo
Hi Susan,
I wanted to let you know that your staff was incredible in helping me pick out the arrangement!!! They were honest and went above and beyond. They even glittered a ribbon to read FFA to honor Mr. Lee. I attended his service this morning and the arrangement made by your staff was by far the most beautiful arrangement. The family thought so as well as, it was placed front and center!! Please tell your staff that I said THANK YOU! I will be sure to tell our FFA family exactly where the most beautiful arrangement came from as we can tell it was made and handled with Love.
Thanks again,
Evie
Susan,
I wanted to respond and say THANK YOU!! The flowers are beautiful and Mom was thrilled!! All flower orders will come through you!
Job well done!
Vicki
Susan,
You delivered beautiful flowers to me yesterday for my birthday from my kids & grandkids in Colorado & California. Thank you for the great job you did!!!
Helen
Hello Susan,
THANK YOU!!!! Really appreciate your help and great service. I am sure my Mother will love the flowers!

LB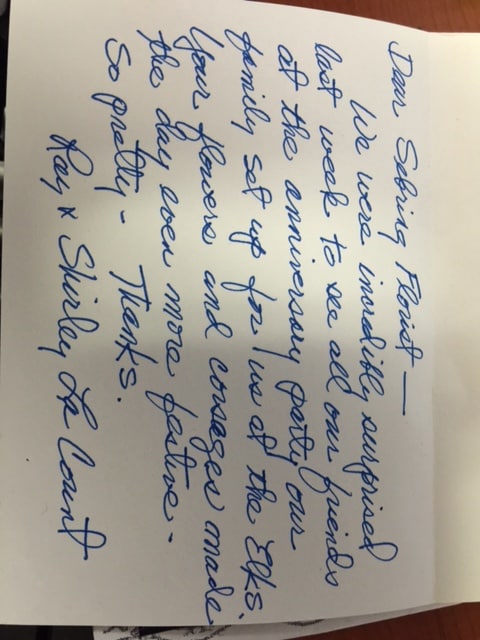 Susan,
Thank you so much for all of your help! We love using you guys!! You rock!
Ariel
I just wanted to thank you for my lovely wedding flowers--they were wonderful. Especially my bouquet!!! I have been enjoying it even more today at my house, every time I walk past it I feel happy all over again. Thank you so much, it is everything I wanted!

Stephanie Farrer, LMT
Licensed Massage Therapist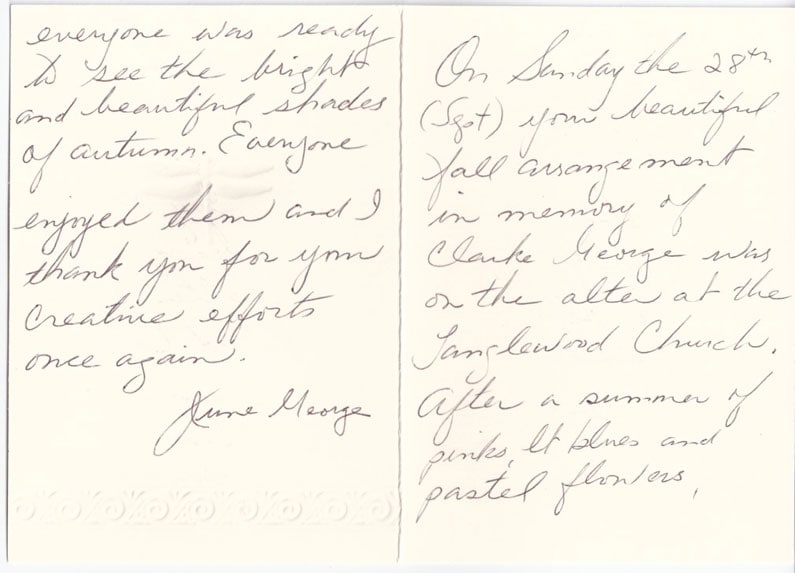 The arrangement was absolutely gorgeous and lasted for days! I really enjoyed it!

Thank you,
Gloria Davis
Thinking of the special things you find the time to do, and wishing that more people were just half as nice as you! Thank you for all the flowers you continue to send, both from you, and so many others. Your arrangements are always so beautiful! We love each one!

Just Dottie
The flowers you delivered to my dad (Buryl Young) this morning at Kenilworth were beautiful....thank you so much for you prompt service!!!! I heard they brought a smile to his face. Thank you again for terrific service.

Christine Lewis, MEd, PT
Montgomery County
KenCrest Education & Training Services
Thank-you for the beautiful arrangement you created for our dear, sweet Aunt Eleanor's service in Sebring last week. She always cherished the flowers we ordered from you. We appreciate the special effort you put into your work. You are truly a blessing to your community. Warm regards, Richard & Judy Rowe
I just wanted to let you know that I received flowers from Sebring Florist and the arrangement was beautiful. I have had the arrangement for over 10 days now and they are still in great condition.

Thank you for making my loss a bit easier to accept.

Sincerely,
Anita Goddard.
To everyone at Sebring Florist,

Thank you! Thank you!
Thank you, for another great job on our baskets!! Thank you so much!

Bonnie Martin
Buttonwood Bay- Relay For Life
Dear Mr. & Mrs. Bible,

We thank God for you, and we thank you for your prayers and generous donation. You are a special part of Jade's Journey.

Love and prayers,
Jade & family
To the owner and Staff of Sebring Florist,

I recently ordered flowers for the funeral of my father, Robert Shumate. I just wanted to thank you for the outstanding, truly beautiful standing spray and casket spray. The choice of flowers and arrangements were perfect.

Trying to arrange a funeral from out of state was not easy, but thanks to you and your staff, everything was lovely, and went smoothly.

A most sincere thank you
Sandra Benning
Dear Mrs. . Bible,

Thank you for teaching me how to be a florist. It was awesome!
You are the best, and I loved the colors!

Brooker
Kindergarten Learning Center
Susan,

Thank you so much for all you did to make Courtney's wedding a success! I am so grateful for everything you did. I don't think we could have done it without you. I never once worried about the flowers. What a great weight off my shoulders and you went above and beyond during and after the reception. I hope one day to repay your kindness!

Love, Natalie
Dear Andrew, Susan, Jay, Emily, Josh, and Ashley,

Thank you for the flowers. Mary Alive
All of the flowers were so lovely

Thank you for caring!
Sebring Florists,

To thank you for the beautiful autumn floral display for Clarke's memorial your creative use of bronze, ruse and yellow with that pink and purple had many friends asking where I got it. I do hope when people want something very special they will continue to think of you. After the church service the flowers were gratefully accepted by Good Shepherd Hospice where they grace the entrance foyer. So many enjoyed them

With gratitude
Jane Meoze
Hi,

Just a note to tell you how much my mother and sister enjoyed an arrangement you delivered to them on Friday. They went on and on about how beautiful it was. I wanted to say thank you for doing such a nice job. When I order flowers out of town I never know how it will all turn out. Happily, this turned out very well. Thank you again for doing such a nice job and making my relatives so happy.

Sincerely, Karen Ellison
Susan

My mother and step father loved the tulips! It's really been nice to know that when you do the flowers long distance that she's getting fresh beautiful arrangements. She has never had a bad arrangement and that says a lot about your shop. Thank you so much and Happy Easter!!

Janette Flynn
Hi:

I just want to thank you guys so much for doing such a great job on the flowers I have sent my mom in the past, she says you do wonderful work!!. She's in the hospital now so I just ordered some flowers on your web site. It's so great to know that although I can't be there in person with my mom right now, there is a quality florist I can trust to bring her something beautiful!

I just want you to know I really appreciate your work.
Daniel

Thanks so much for the beautiful job that you did on an arrangement sent to my mom yesterday. I can always trust you to do a lovely job at a reasonable price. I called and you delivered the flowers within a couple of hours! I never hesitate to call you or recommend you to others, even living out of town.

Sara Bryant
Susan –

Thank you so much for those beautiful flower arrangements you all did for my wedding. They were gorgeous! It all turned out so well and Staci Braswell did a fantastic job on everything else. Just a dream come true for me. Just wanted to tell you how happy I was with everything! THANKS!!!!!!

Judy (Maxcy) Heath
Susan -

I just had to tell you what absolutely beautiful flowers you did for us for the church on Sunday. I don't think I have ever seen such beauty and the roses I had never seen such a beautiful rose color.
Thank you for making it so beautiful.

Connie and Vic Rodriguez